Looking for the Gift Shop? Look no further!
---
Submissions are now open!
What We're Looking For
Storyletter XPress Publishing LLC publishes speculative flash fiction, short stories, novelettes, novellas, and poetry.
As a family-friendly publisher; we only consider submissions that follow our clean content guidelines. This includes no excessive profanity, overtly sexual content, or graphic violence for the sake of violence. Submissions containing such content will not be considered unless the writer agrees to a clean revision process. For references, please check out what we've previously published on the Substack, or read the FAQ section below for exact guidelines.
Submissions should be aimed at ages 14+. Short fiction and poetry should be between 100-10,000 words.
Must be over 18 years of age to submit.
Fiction must be completed before submission.
Join The Community
The Storyletter is a place where readers and writers get to hang out. On Wednesdays, we have discussion threads, share interviews, and showcase others. We're dedicated to platforming independent creators of all types. Join other writers, meet new friends in the comments of your favorite stories, and discover new opportunities by engaging with existing publishing companies seeking new talent.
Explore Free Fiction
The Storyletter publishes speculative short stories, flash fiction, poetry, serialized novellas, and novels. Genres include science fiction, fantasy, horror, mystery, thriller, historical fiction, dystopian, utopian, new weird, magical realism, folktales, and other genre-bending tales. Stories are posted Saturdays based on availability.
Submit Your Story
We're building a place where people enjoy reading and writing, and we want you to be a part of it. Your voice and your stories are welcome here. Editing, critiques, feedback, advice, marketing tools, cover design, etc. We've got it all! Come on over, we'd love to see you join as an XPress member.
In today's creator economy, the ultimate goal of The Storyletter is to change how we view, publish, and engage with fiction. Traditional publishing can seem daunting and unapproachable, but The Storyletter is bridging the gap between readers, writers, and publishers with a community built for all. We provide writers with a supportive platform to reach readers who desire new and entertaining fiction and poetry. Your financial support goes directly into the community, funding even more stories for everyone's enjoyment.
XPress Access Explained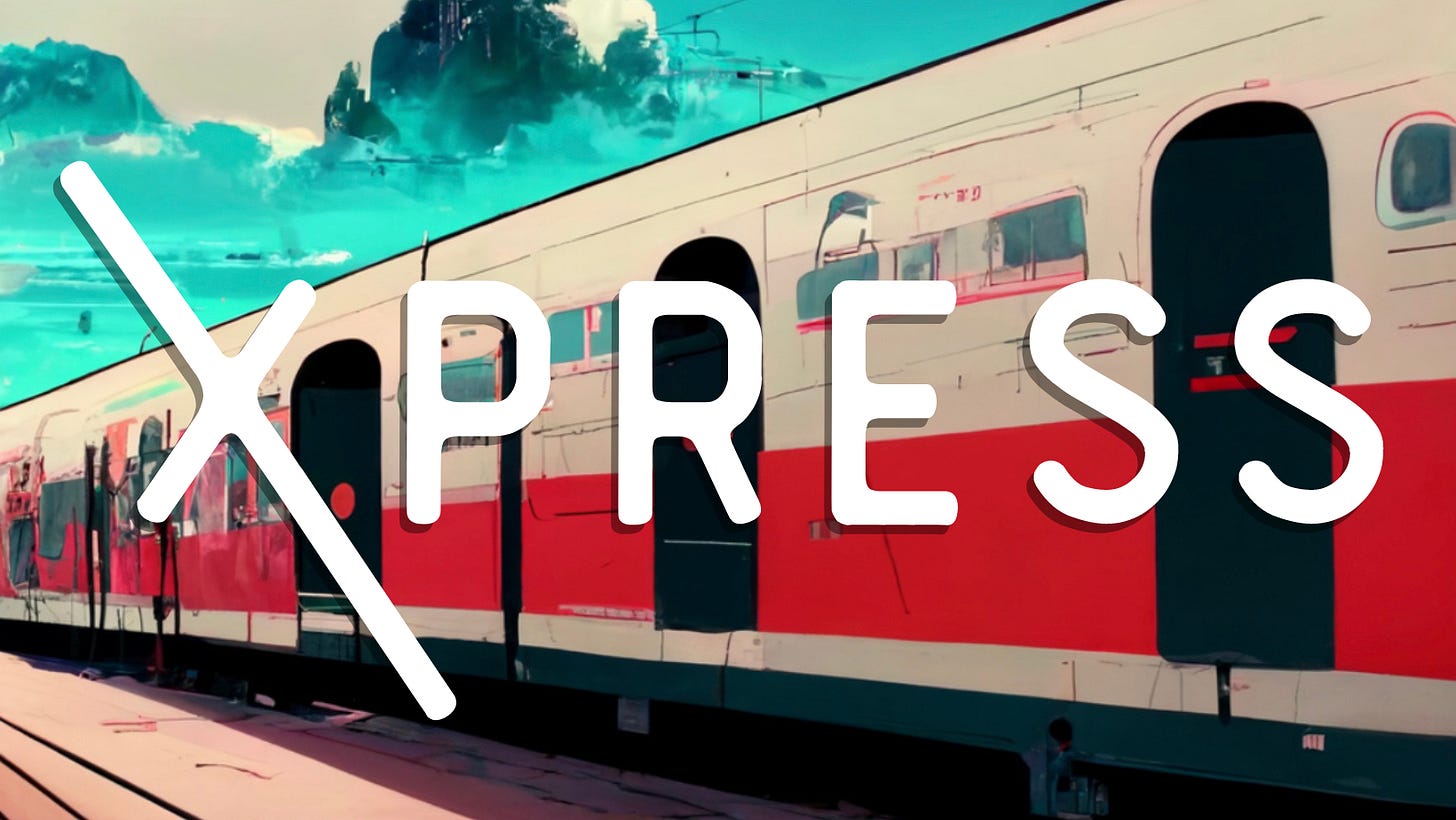 XPress is the paid membership to The Storyletter. It's the best way to show your support and get some exclusive perks. A lot of what we're working on is in the growth stages, and things are expected to change slightly, however, I've managed to keep a few things consistent for the most part:
Once a month I write a paid newsletter that is centered around a topic for indie creators and writers. For example, I wrote a post on how to set up your own podcast series and another one on how to start a Substack.
XPress members get access to our private Discord. It's a good way to connect directly with other members of The Storyletter and network to share ideas.
I'm recording the stories found on The Storyletter in audio and publishing them via a podcast called Storyletter Read Aloud (SRA). There are public domain stories that I'm releasing for free, however, the more exclusive ones are released behind a temporary paywall for XPress members only.
Exclusive content: This is a working idea. I've published a couple personal posts, but haven't figured out exactly what I could be providing here. It's still a potential perk that will likely develop in the near future.
You have the ability to submit for publication in The Storyletter. If accepted, I'll pay 1 cent per word to purchase your story and publish it. You still keep your rights for use elsewhere such as contests and other publication options.
The biggest perk of being an XPress member is the contests. I'll be running more routine writing contests moving forward and awarding cash prizes or story purchases for publication. At the price of one month of XPress, you're able to enter any running contests. Of course, a year subscription gets you access to all of them.
I'm confident these offerings are worth the price of admission. If you have any questions or would like to offer feedback, comment below or email me at storyletter@protonmail.com.
First Class – The Founder's Tier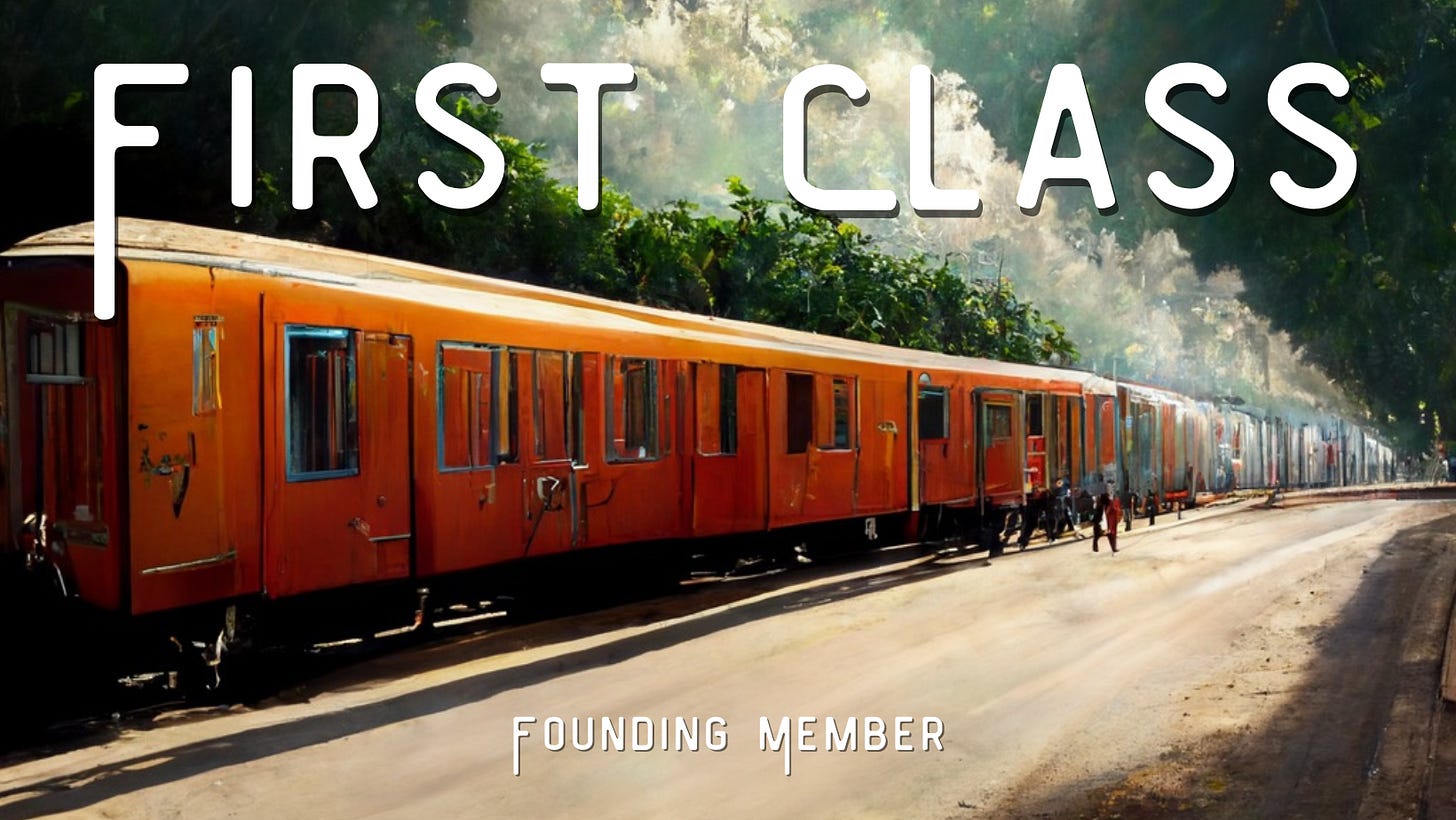 Some of you may find this perk familiar since it was previously included in XPress. With First Class, I provide basic editing, feedback, graphic design, and marketing services for a story that you're going to submit and publish on The Storyletter.
Your story will be included in the latest edition of The Storyletter Anthology for publication online and possibly in bookstores (depending on which route I take). I'll help you self-publish your novel or novella online if you'd rather maintain control over your story and royalties.
Due to the nature of buying ISBNs, purchasing image licenses, paying editors, and commissioning artwork, I've created this comprehensive tier for writers and readers to engage with The Storyletter and show their support.
It's only because of you that all of this is possible. Plus, I want to give writers the attention they and their stories deserve. I won't be able to do that on a large scale by myself, but tailored to just the First Class members, I think it will be more manageable.
Let me know what you think in the comments. Ask your questions here, or by sending me an email directly (storyletter@protonmail.com). I look forward to working with you and reading your amazing stories!
Guidelines and FAQs
How do I submit my story?
Please read the complete submission guidelines and the frequently asked questions before attempting to submit your story. Once you've read the guidelines and believe your story is a good fit for The Storyletter.
Why do writers join as paying subscribers?
Joining Storyletter XPress is useful in many ways for both The Storyletter Substack and you as a writer. It benefits us (the publisher) because it lets us know that you're serious about your work and you want to support your fellow writers. It also pays for overhead costs such as editorial time, marketing costs, writer payouts, artwork commissions, website fees and so much more. All the money from paying members will be put back into growing The Storyletter community in some way.
What do you mean by family-friendly?
We have strict content guidelines. We understand that some stories require certain content in order to accomplish the purposes of the story, but Storyletter XPress Publishing LLC does not publish those types of stories.
For guidelines, see below:
Swearing: Some light swearing may be acceptable. Submitting writers must be willing to edit all swearing out if requested by our editors. This includes swearing in English and other real languages, but not swear words in fantasy or alien tongues. 
Violence: While we enjoy action, violence should not be glorified or graphic. Deaths may occur, but there should be minimal blood and gore. Physical torture is unacceptable. If descriptions of death are unavoidable, please consider taking an artistic approach.
Sexual content: No sex scenes. Absolutely no rape. No descriptions of nudity. Innuendo and crude humor may be tolerated depending on the subject matter.
Controversial topics: Storyletter XPress Publishing LLC does not publish stories that delve into controversial political or religious issues, such as gun control, abortion, or real-life political parties/candidates. This doesn't mean you can't use allegory or metaphor, but it should be nuanced and subtly implied.
Additional rules may apply to your story that is not listed here. 
If you are uncertain about your content, you can contact us with a description or example of the content.
Can I submit previously published or self-published manuscripts?
Yes. All previous e-book publications need to be discontinued from sale on any digital retailer and previous print publications would need to be out of print and removed from on-demand printing. The author must be in possession of all the rights. Please include information about the previous publication and previous sales of the story/series in our submission form. Our submission file format guidelines still apply to previously published titles. Do not send print-ready PDFs. If accepted, we will edit, design, and publish previously published titles through our normal publishing process.
Should I submit my book to you? It's about…
Storyletter XPress Publishing LLC ONLY reviews submissions sent through our form and the accompanying synopsis and manuscript delivery instructions. We do not review emailed queries, sample chapters, or partial manuscripts. We are happy to answer questions about our submission process or preferred genres over email, but we will not review author bios, outlines, queries, pitches, or other submission materials that have not been sent through our form.
Do you accept translations of books in other languages?
As long as the author or translator can work with our editors in English, we are happy to consider translated titles. In order to be considered, the manuscript must read naturally to native speakers or be able to read naturally with minor editing. The author's and character's voices must still be strong, despite being translated. We will put all manuscripts through our normal editing processes, even if they are already published in another language. This includes any necessary plot edits.
Do you accept submissions from authors outside the United States?
Yes, we accept submissions from anywhere in the world, but we only publish stories in English.
Will you translate my book into English?
Storyletter XPress Publishing LLC does not currently translate stories. We only accept stories that have already been translated into good English.
When should I submit?
Submissions are considered on a first-come, first-serve basis. Storyletter XPress Publishing LLC reserves the right to close submissions at any time.
Can I include artwork in my submission?
No, submissions should be text only. At this time Storyletter XPress Publishing LLC is not accepting picture book submissions or color illustrations. Do not include cover art. If you have a cover design or illustration that pairs with your submission, let us know in the submission form.
Do you make exceptions to your word count requirements?
Submissions below 50 words or over 10k words will not be eligible for short fiction/poetry entry. If your story is intended for serial format, then submissions over 10k words may be considered if qualifying information is properly filled out within the submission form section regarding novelettes and novellas.
Can I submit multiple titles for your consideration?
Yes, but try to limit one entry per submission category (poetry, short story, novella, etc.) to give our editors time to review each submission.
Need Help?
Have questions not answered here? Use our contact form to ask for more information. Or check out this post where we break down the steps to submit your stories. Submissions are now open!
Submission queries sent through the contact form will not be considered. Do not send outlines, summaries, or query letters.
For more info, head on over to the About page. In the meantime, tell your friends!
Sign up for free so you don't miss a story! Consider becoming an XPress member for access to Storyletter Read Aloud (audio series), behind-the-scenes updates, an invite to our private Discord, additional fiction, First Class services and so much more!